THE FIRST
AWARD-WINNING TAMARIND SPIRIT
IN THE WORLD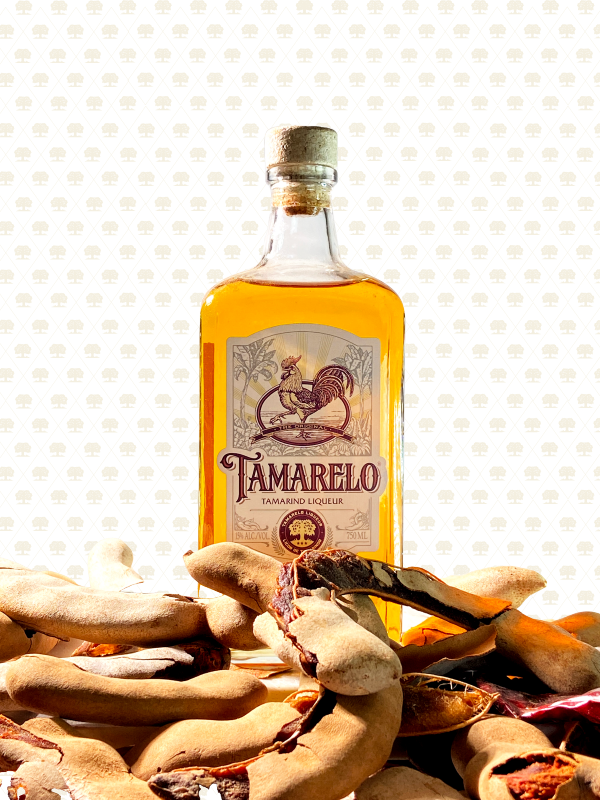 THE ONLY BOTTLE YOU NEED.
Taste the tropics with the secret citrus-caramel tangy flavor of tamarind.
Tamarelo is an American-made, small-batch, hand crafted, ready-to-drink tamarind spirit that tastes like a tropical vacation. It can be an apertif, a digestif, a base for cocktail recipes and some creative chefs use it for cooking in their restaurants. Enjoy Tamarelo instantly - just open and serve.
Tamarelo captures the citrus-caramel flavor notes of tamarind adding a kick of heat. People say Tamarelo tastes like tamarind candy, adult "agua de tamarindo", or a tamarind paleta. Serve it straight, frozen, mixed with other spirits or in recipes for cooking.
Since at least 400BC tamarind has been one of the most popular fruits in the tropics. Some believe the tamarind tree, fruit, and leaves are sacred. We just know It's Good.
Tamarelo is one of the most versatile, sustainable spirits in the world.
Pour It Straight
Pour It Over Ice
Mix It Into Cocktails
Enjoy It Frozen
Cook With It
Most people in America haven't heard of tamarind (I hadn't either) but it's one of the most popular tropical fruits in the world consumed by 90% of the world's population, and I think when you try it you'll discover why the world loves it.
The moment my friend Adrian introduced me to tamarind I was hooked. I loved the tamarind candy he shared at the Portland, Oregon Cinco De Mayo festival in 2008 and I couldn't get enough of the dried tamarind pods I tried in Milwaukee, Wisconsin 2012 - the moment Tamarelo was conceived. After coming up with the idea I called several spirits brands asking them to make it: none of them cared. I decided if they wouldn't make it I had to and TAMARELO TAMARIND LIQUEUR was born.
It was hard figuring out how to capture the complex flavor of tamarind, its acids, and subtle caramel notes without oxidation or degradation, but we did it. After 3 years the first small-batch tamarind spirit in America was finally ready. Inspired by the traditional combination of sour tropical tamarind, sweet sugar cane and a touch of chile pepper heat, our exclusive flavor is blended with filtered corn-mash spirits proofed with pure Rocky Mountain spring water in the United States.
Speaking of water, sustainability is critical to our purpose. Now, you may find it weird that we bottle a tropical spirit in the center of the USA but this central location minimizes transportation emissions and we don't have to pipe water hundreds of miles. Importantly, our distributors can pick up orders with shorter deliveries anywhere in the USA.
Though we're new, we moved the entire industry into a more sustainable future through innovation: we invented the first all-cork t-top bottle enclosure so our bottle and closure becomes 99.5%+ sustainable.
Unlike wasteful 2-part synthetic t-top closures TAMARELO's first-of-kind all-cork t-top will decompose, completely eliminating the plastic waste found in other t-top closures. Of course our glass bottle is 100% recyclable and our case-cartons are made of minimum 75% recycled cardboard without gloss- or color- prints reducing the environmental impacts of inks and colorants vs. other packaging. We're committed to sustainability so we can make the future a better place than the present. Along with the quality and flavor of TAMARELO, I hope our commitment to a more sustainable future gives you comfort, confidence, and something to tell your friends while sharing a bottle.
TAMARELO is great as a base or modifier in cocktails and since we make it in America we don't have pay import fees. Our lower costs allow us to offer the high quality of TAMARELO at an accessible price so you can use as much as you want.
TAMARELO is bottled at 15%ABV (30 proof) to be flavor-forward. I personally prefer drinking TAMARELO on its own over ice or freezing it and enjoying it as an adult slushy - it reminds me of the tropics and my friends love it.
If you have questions, comments or want to share your recipe please email us at itsgood@tamarelo.com.
Salud,
Kevin Faul
Founder & CEO